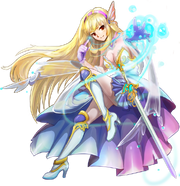 Welcome to the Dragon Era Wiki
This Wiki is dedicated to Dragon Era, a Universal Free App and features a combination of Slots, RPG, and CCG gameplay. Please help the community grow and add to it!
CURRENTLY NO ADMINS, MESSAGE http://dragonera.wikia.com/wiki/User:Thievingsquirrel if you want to be one.
Dragon Era released globally(excluding China, Japan, Korea which Playmage may do localized versions in the future)
Gameplay
[
]
Do you like Slot Machines, RPGs, or card battle games? Do you want to try something truly new and unique? Then Dragon Era is definitely the game you don't want to miss. It's a new card game combining battles and slots on the iOS & Android platform. It has been featured in the "Best New Games" section of the US App Store. It also has been on the front page of Google Play store.
Monster Book & Evolution
[
]
New Additions to the Wiki
[
]
Card Stats
[
]
<activityfeed size=7 hideimages=true shortlist=true width="300">
<gallery mode="slideshow" type="slideshow" width="300" showrecentuploads="true">